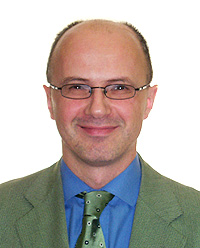 Dr. Bernard Maier, weitere Fotos verfügbar
Biography Dr. Bernhard Maier
Mr. Bernhard Maier was born in Graz on May 13th 1963 and founded maichem solutions Chemie GmbH in autumn 2004. Actually he is the company's CEO.
Vita
Work Experience
Since 2004/10: managing director at maichem solutions Chemie GmbH (consulting company in chemical technology and organization managament)
2002/02-2002/04: joining the R&D-Department of Murexin AG (manufacturer of products for building chemistry), jobdescription: head of R&D-Department and of Quality Control Department
2000/03-2001/11: joining the Department of Marketing Melamin of Agrolinz Melamin (N based fine chemicals), jobdescription: chemical analysis, development & industrial application, sales activities of additives for wood manufacturing industry delegation to Castellanza (Italy) from 04.2000 till 08.2001 (site for development & production of additives)
1995/10-1999/11: joining the R&D-Department of the Fritz Egger GmbH & Co (wood manufacturing industry), jobdescription: head of R&D-Department of Chemistry, Scaling up in Production, Training of technical staff
Education
1973-1981: Secondary School at the 4. BG Graz - Oeversee
1981-07-02: High School diploma (grade A) obtained Chemical studies
1981-1991: Study of chemistry at the Karl-Franzens University Graz
1985/07: 1st diploma examination (comparable to Bachelor of Science)
1988/02-1989/05: diploma thesis "Analysis of Hydroxy groups in Polymers and Oligomers" (Grade A+) in cooperation with LIM-Kunststofftechnologie Ltd., (Kittsee) under supervision of Prof. Trathnigg (Institute of Organic Chemistry)
1991/07: 2nd diploma examination (Master of Science)
1991-07-17: Awarded Master of Science degree
Medical studies
1984/10-1987/07: Study of Medicine (Biology, Chemistry, Physics, Histology, Physiology, Anatomy, exams in practical courses)
Postgraduate studies
1991/09-1994/10: doctoral thesis at the Institute of Organic Chemistry, under supervision of Prof. Trathnigg (financial support by the Austrian Academy of Science) Title: "Characterization of polyethers with different analytical techniques"
1994/10: doctoral examination (grade A+)
1994/11: Awarded doctorate in natural science
2002/09 & 2002/11: Training for "Concrete Technology I & II"
2003/01: Training for "Industry flooorings" at TAE Esslingen
2003/03: Training for so called "Strahlenschutzbeauftragter gem. §29 BGBl 47/1972"
2004/02-2004/06: Training for Economy at the WIFI Vienna
2004/03-2004/07: Training for "Quality Management Systems Manager"
2004-07-02: Examination Quality Management Systems Manager and Auditor ISO 9000
2004-07-06: Examination
2004/11: Training for EN ISO/IEC 17025 & ÖNORM-Serie EN 45000
Scientific activities: polymer chemistry
1993/08-1993/09: Research scholarship during and afterwards thesis at the
1995/07-1995/09: Institute of Applied Chemistry in Berlin-Adlershof (Germany, group of Dr. Much)
1994/06-1994/07: Research scholarship during thesis at the Institute of Polymer Chemistry at the Slovak Academy of Science in Bratislava, (Slovakia, group of Dr. Berek)
1994/111995/09: Research activities at the Department of Polymer Chemistry, (University Graz) in cooperation with research groups in Bratislava and St. Petersburg (Project OWP 53 of the East West Fonds)
1995/04.-1995/05: Comprehensive Lecture held during CEEPUS - program (financed by the Austrian ministry of Science) at the Department of Analytical Chemistry of the Comenius University (Bratislava), Title: "Liquid chromatography of synthetic polymers"
Social activities
1985-1993: Social engagement at the Rotary Club Graz
1986-1990: Student representative at the Faculty of Chemistry
1992/06-1993/01: Employment in Youth Center in Graz (care for refugees and socially handicapped people)
Other skills
Languages: English language (technical English included) fluently, Italian language advanced level, Basics in French language (expandable)
Computer applications: all common MS Office-applications
Personal data
Date of birth: May 13, 1963 in Graz, Austria
Marital status: married
Interests: long distant sports, adventure traveling, theatre, music